ASTHMA – A QUICK PRIMER!
Asthma is a chronic condition wherein the airways become narrow and inflamed and can cause difficulty in breathing. It may also cause chest pain, cough and wheezing. It is a major global health problem and affects all age groups irrespective of sex and economic status.
Modern medicine recommends rescue and controller inhalers (steroids). But the long-term use of these inhalers has undesirable side effects like coughing, sore throats, lung damage and oral thrush (a fungal infection).
SYMPTOMS AND CAUSES
The common symptoms of Asthma are:
Wheezing
Coughing
Shortness of breath and
Chest tightness
According to Ayurveda, the factors that cause Asthma are as follows:
Exposure to dust, smoke and wind
Living in cold areas
Intake of cold food and drinks
Excessive exercise or work
Heavy diet
Suppression of natural urges
Trauma to throat, chest and vital organs.
There are several types of Asthma:
Adult-onset Asthma,
Allergic Asthma
Asthma-COPD overlap
Exercise-induced Bronchoconstriction
Non-allergic Asthma and
Occupational Asthma.
AYURVEDIC HOME REMEDIES FOR ASTHMA
Some of the home remedies for Asthma are:
| | | | |
| --- | --- | --- | --- |
| Lemon juice and honey | Indian gooseberry | Carrom Seeds | Figs |
| Drumsticks | Ginger tea with crushed garlic cloves | Ginger and turmeric powder tea | Coffee |
| Black tea | Mustard oil | Warm milk mixed with a paste of dates, black raisins, long pepper and honey | Tulsi, pepper, Carrom seeds and ginger tea |
| Cinnamon and honey | Bay leaf and honey | Honey and cloves | Licorice and ginger tea |
These home remedies provide temporary relief from the asthmatic symptoms but for permanent relief medication is required. "Try our AA Caps – Ayurvedic Medicine for Asthma"
According to Vaidyarogya Ratnavali, Swasananda Rasa is a very well-known classical formulation known to help with breathing difficulties. As the name indicates (Swasa – in Sanskrit Swasa is the term for Asthma and Ananda – happiness), it allows for easy and comfortable respiration. Ayurvedic medicines made with this classical formulation when taken regularly as prescribed by the Ayurvedic practitioner will help in getting rid of Asthma. Jammi's AA Caps contains Swasananda, Tankana Bhasma, Talisadi Churna and other classical ingredients known to help alleviate Asthma. Asthma is a chronic condition and one must take these medicines over a long term under proper medical guidance.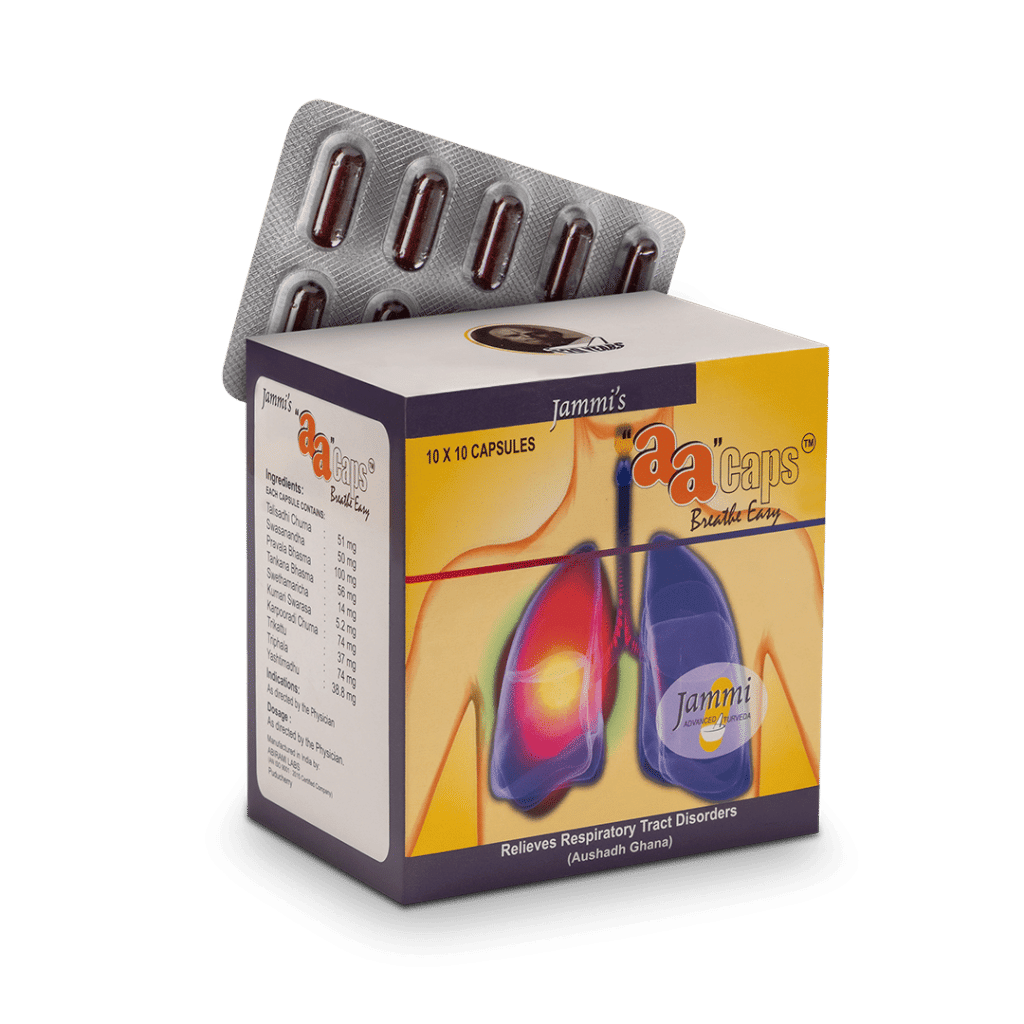 AA Caps – For Respiratory Distress
AA caps is a proprietary Ayurvedic formulation from Jammi's which contains classical ingredients which are well known to address the various aspects of Respiratory Distress including breathing difficulties, asthma and wheezing. In fact the main ingredient of AA caps is Swasananda Rasa which is a classical formulation KNOWN to help with breathing difficulties. As the name indicates (Swasa – in s…
CONCLUSION
Deep breathing, healthy diet and regular exercise along with Ayurvedic medicines are the perfect solution for Asthma and related breathing issues. These Ayurvedic medicines are extremely safe for long term use and has helped several thousand patients from children to adults in overcoming various breathing problems.
Abbreviation
COPD – Chronic obstructive pulmonary disease
Narasimham Jammi
Published : June 28, 2021