Acne is a skin condition that occurs when your hair follicles become plugged with oil and dead skin cells. It causes whiteheads, blackheads or pimples. Acne is most common among teenagers, though it affects people of all ages. Pimples are small blisters mostly seen on the face, back, chest or shoulders.
According to Ayurveda, clear and glowing skin are considered as the hallmark of good health. Skincare involves keeping your skin clean and healthy. An effective routine can help prevent acne, treat wrinkles and help keep your skin looking its best.
WHY AM I GETTING ACNE?
Release of excess sebum
Hormonal imbalance
Blocked follicles and pores
Bacteria build up in pores
Inflammation
WHAT CAN I DO TO PREVENT ACNE?
A few simple things you can include in your daily routing can go a long way in preventing acne and pimples. Here are some tips to help keep your skin healthy.
Wash face with water twice a day, once in the morning and once at night.
Drink lots of water.
Avoid makeup. NEVER sleep with makeup on.
Avoid junk food.
Those with excessively oily skin, apply a toner to remove excess oil and avoid blemishes.
Apply a moisturizer to hydrate the skin.
Use sunscreen with the right SPF during the day. It helps prevent skin ageing.
AYURVEDIC / HOME REMEDIES FOR PIMPLES
Conventional treatments can help cure pimples but are often associated with adverse side effects, including skin irritation and dryness. Therefore, it is advisable to try natural remedies to prevent acne formation on the skin. Here are some simple home remedies to avoid pimples:
Haldi (Turmeric): Apply turmeric or haldi paste on the affected area to prevent acne marks, scars and pigmentation.
Chandan (Sandalwood): Apply chandan or sandalwood paste to prevent pigmentation and black marks on the skin.
Aloe Vera: Apply aloe vera juice or gel on the affected area and leave it for 30 minutes (can be left overnight too) and wash it off. Aloe vera works well for pimples and black marks.
Pudina (Mint): Make a paste of 10-15 pudding or mint leaves with water and apply it on the affected area. Let it dry and wash your face with lukewarm water. Pudina helps treat acne and stops bacterial growth, leading to less acne breakouts.
Madhu (Honey): Apply honey on the spot or make a honey mask to treat acne. Honey can be included in daily diet to cure all acne and pimple related problems.
Apple Cider Vinegar: Apply mixture of unfiltered apple cider vinegar and filtered water using a cotton ball to the affected area. Wait for 10 to 12 minutes and wash it off using warm water. This is best home remedy for acne breakouts.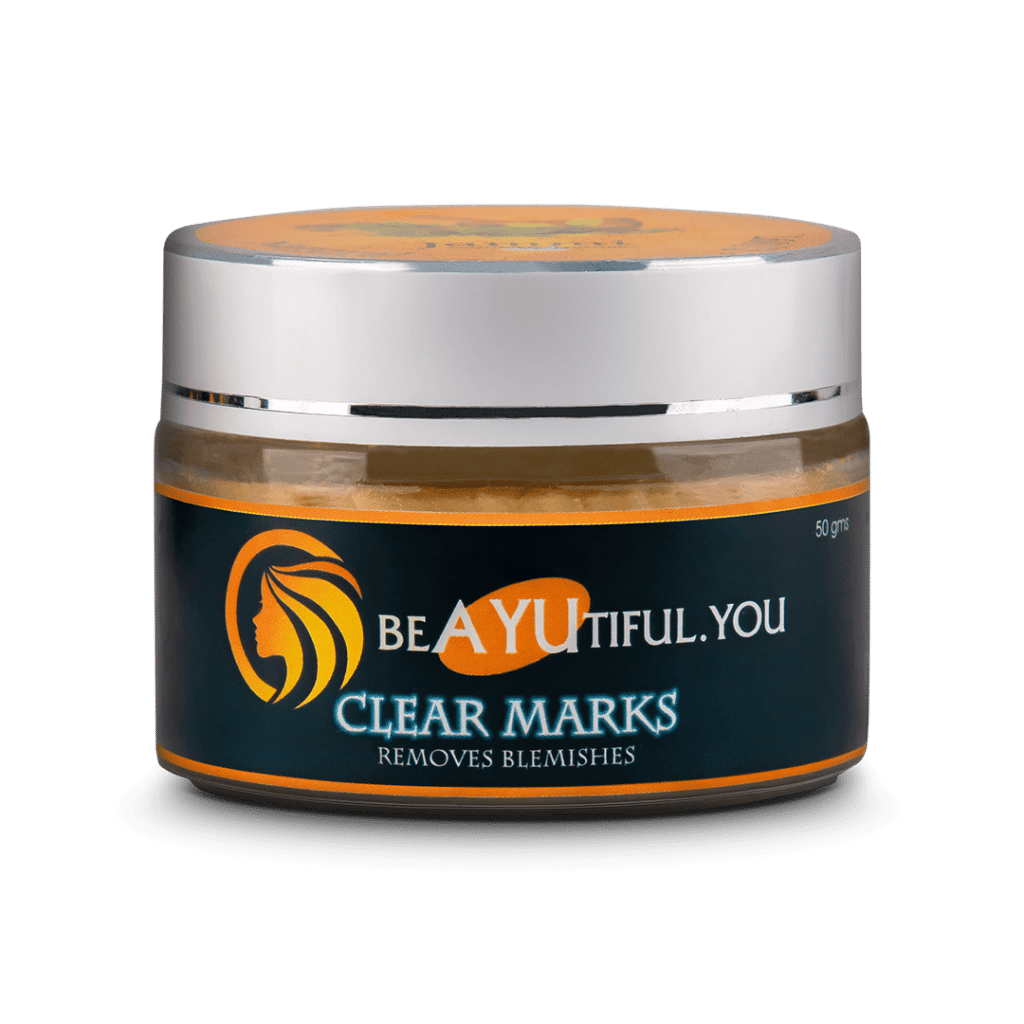 BeAYUtiful.You Clear Marks – Acne & Pimple Marks Spot Treatment Cream
Clear Marks Acne & Pimples Cream removes pimples, acne & blemishes. It also removes marks from your face caused by Acne, pimples and other skin ailments. BeAYUtiful.You Clear Marks Contains Ayurvedically processed Zinc nanoparticles, Tankana and other well-known ingredients that restore your skin back to optimal wellbeing.
Learn More:  <…
HERE ARE A FEW 100% AYURVEDIC PRODUCTS AS PER DIFFERENT SKIN TYPES TO PREVENT PIMPLES
Oily: Flawless Facepack three times a week
Dry: Glow cream for the night and Daily Dew Extra Moisturizing Cream for the day
Combination: Flawless Face Pack followed by Daily Dew Moisturizer
If you are confused about your skin type, we suggest you try our bespoke skincare range, in which you talk to our Ayurvedic experts and we create formulations EXCLUSIVELY for you to give you the correct Ayurvedic treatment for your skin.
Narasimham Jammi
Published : February 23, 2021