"A beautiful skin is a commitment not a miracle" says Erno Lazlo, a pioneer in cosmetic dermatology. Who does not want to look young and beautiful? When you look at yourself in the mirror, don't you want your skin to thank you for taking care of it. It is indeed right to state "Self-care starts with skin care". Do you do? Well, you will have a glow and healthy complexion if you follow Ayurveda, the Science of Life. Not only that, you can certainly have an anti-ageing effect on your skin if you switch to Ayurveda. Ageing of your skin is something that can certainly be delayed when you switch to an ayurvedic regimen.
Try Timeless Anti-Wrinkle and Anti-Ageing Night Cream to Prevent Wrinkles and to Nourish your skin.
SKIN COLOUR AND COMPLEXION
What is the difference between skin colour and complexion? Melanin pigment is the main determinant of the skin colour. We mostly define the skin colour as fair and dark. Complexion and skin colour are often confused. Complexion is the amount of blood that flows to your skin. The better the blood flow, the skin looks healthier and glowing. Irrespective of your skin colour, you can always have a clear complexion.
The various factors that contribute for a healthy complexion are
Adhering to a healthy lifestyle
Doing exercise regularly
Having sleep hygiene
Eating right
Following a pure ayurvedic skin care regimen
AYURVEDIC SKIN CARE REGIMEN
Cosmetic skin care products available in the market target the external skin issues. The benefits derived from them are short lived. The focus of Ayurveda is on inner wellness which reflects on the skin in the form of a glowing complexion.
Ayurveda facial skin care regimen consists of the following steps:
Cleansing
Nourishing and
Moisturizing
The steps involved are:
Wash your face thoroughly with warm water.
Make a paste of the chosen ingredients depending on your skin type. Ubtan – The most common ingredients used are gram flour (besan), turmeric, sandalwood powder, oatmeal, green gram flour, masoor dal, saffron, multani mitti (Fuller's earth), tomato juice, lemon juice, cucumber juice, yogurt, honey, raw milk, milk cream (malai), almonds. This ubtan not only cleanses, but also nourishes the skin.
How to use ubtan? A simple face pack made with the easily available ingredients in the kitchen is given below:
Mix 2 tablespoons of gram flour with 1 tablespoon of yogurt or 2 tablespoons of milk.
Apply this paste to your face and neck.
Let it sit for 20-30 minutes.
Wash your face with cool water and pat it dry.
In addition, use rose water to lock in the moisture in your face.
Ayurveda herbs like Kesar(saffron), Manjistha (Indian Madder) and Chandana (Sandalwood) not treat internal diseases but also works wonders when applied topically on the skin. How these herbs can be used for augmenting skin health is given below:
| | | | |
| --- | --- | --- | --- |
| S. No | Name of the herb | Method | Benefit |
| 1 | Manjistha | Make a paste of 1 tsp Manjistha powder, 1 tbsp of aloe vera gel, 1 tsp neem powder, a pinch of turmeric and rosewater | Radiant, blemish free, glowing complexion |
| 2 | Saffron (Kesar) | Soak few strands of saffron in milk for 2 hours. Then apply it on your face and neck. Wash it off after few minutes. This can be used regularly. | Radiant, blemish free, glowing complexion |
| 3 | Sandalwood (Chandana) | Apply a paste of sandalwood powder and rose water on your face and neck. After drying, wash it off | Radiant, blemish free, glowing complexion |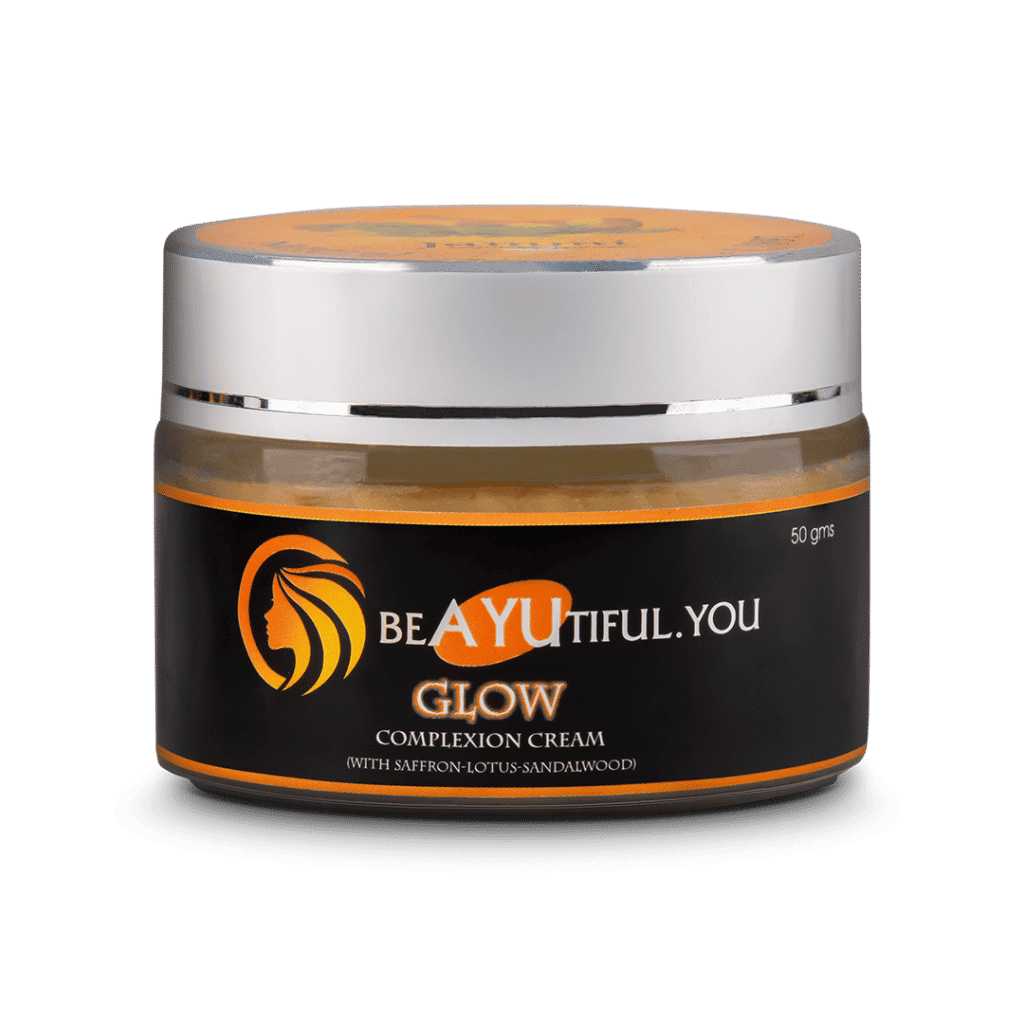 BeAYUtiful.You Glow – Facial Cream for Glowing Skin
BeAYUtiful.You GLOW facial cream is an outcome of 123 years of ayurvedic expertise. Choosing these right ingredients for your face is paramount for enhanced blood flow thereby promoting your natural complexion. The goodness of 23 handpicked ayurvedic ingredients by our ancestors is packed as a daily facial cream, which is easy to use and gives a natural glow with…
CONCLUSION
As an unknown quote says "Your skin regime is a bank account. Good product choices are good investments", let us invest wisely.
Narasimham Jammi
Published : August 3, 2021