COVID-19 declared as a global pandemic by the World Health Organization (WHO) is the disease caused by a new corona virus called SARS-CoV-2. There is no specific treatment or cure now. It is especially important to understand that social distancing and proper hygiene practices are necessary to protect ourselves from COVID-19.
"The idea is that if you don't have a potent weapon to combat the enemy, a strong and effective shield is the best bet to protect yourself." The question is how to build a strong immunity.
HOW TO BUILD IMMUNITY?
The COVID-19 crisis has led to high levels of psychological distress and significant impact on mental health. The immune system is the body's multi-level defence network against potentially harmful bacteria, viruses, and other organisms. Keeping a robust immune system year-round is key to preventing infection and disease.
The factors that augment your immunity naturally are:
Get adequate sleep
Staying hydrated
Managing stress levels
A well-balanced diet
Include a variety of spices into the daily dietary routine.
A regular yoga practice/exercise
Few things that we can make part of our daily routine to strengthen immunity are:
Oil pulling before brushing your teeth in the morning to kill the germs and bacteria in the mouth.
Starting the day with Tulsi, pepper and ginger tea to strengthen and cleanse the upper respiratory tract.
Use turmeric and black pepper in the meals daily, to boost immunity and reduce toxins.
Deep throat gargling with salt water.
Minimizing intake of red meat and avoid usage of processed meats.
Taking 15 ml of Amla (gooseberry) juice daily to supply extra antioxidants.
Drinking plenty of warm water soothes the throat and nasal congestion.
AYURVEDIC HERBS TO BOOST IMMUNITY
Research has shown that supplementing with certain vitamins, minerals, herbs, and other substances can improve immune response and potentially protect against illness. Here is the list of some Ayurvedic herbs and spices that can help strengthen the immune system and improve overall health, thereby reducing the risk of contracting corona virus infection.
| | | | |
| --- | --- | --- | --- |
| S. No | Botanical Name | Local or Common Name | Ingredient uses and benefits |
| 1 | Plumbago zeylinica | Chitraka | Rejuvenating medicine |
| 2 | Cyperus rotundus | Musta | Helps improve digestion. |
| 3 | Caraway seeds | Kala Jeera | Improves digestion strength, improves taste, and improves strength & immunity |
| 4 | Dill Seeds | Satapushpi oil | Improves digestion strength |
| 5 | Mentha piperita | Pudhina | Improves brain function and digestive symptoms to relieve cold symptoms and even bad breath |
| 6 | Coriandrum sativum Linn | Dhanyaki | rich source of vitamin C and many Complex vitamins |
| 7 | Piper Longum | Pippalli | Treats chronic bronchitis, asthma, constipation, paralysis of the tongue, treats & prevent viral hepatitis, respiratory infections, bronchitis, and cough |
| 8 | Piper nigrum Linn | Maricha | anti-oxidant, anti-bacterial, anti-tumour, anti-mutagenic, anti-diabetic, and anti-inflammatory properties |
| 9 | Withania Somnifera | Ashwagandha | Reduces stress levels, anxiety and improves sleep. Helps with blood sugar control. |
| 10 | Zingiber officinale | Shunti | Improves taste and digestive strength, effectively treats chronic respiratory disorders. |
IMMUNITY BOOSTING FOODS
While all the above-mentioned Ayurvedic herbs will help, it needs to be supplemented with the nutrients. Nutrients are compounds in foods essential to life and health, providing us with energy, the building blocks for repair and growth and substances necessary to regulate chemical processes.
There are six major nutrients:
Carbohydrates (CHO),
Lipids (fats),
Proteins,
Vitamins,
Minerals and
Water
Fibre is considered as a seventh nutrient essential for the human or animals.
Vitamins and minerals are essential to the health and the functioning of your immune system.
Vitamin D is essential for immune function. Healthy levels of this vitamin may help lower your risk of respiratory infections.
Vitamin C is vital for immune health. Supplementing with this nutrient may reduce the duration and severity of upper respiratory tract infections, including the common cold.
Along with vitamin D and C, magnesium and zinc are minerals which play a crucial role in carrying out the enzymatic processes in our body. Magnesium helps in converting vitamin D into its active usable form.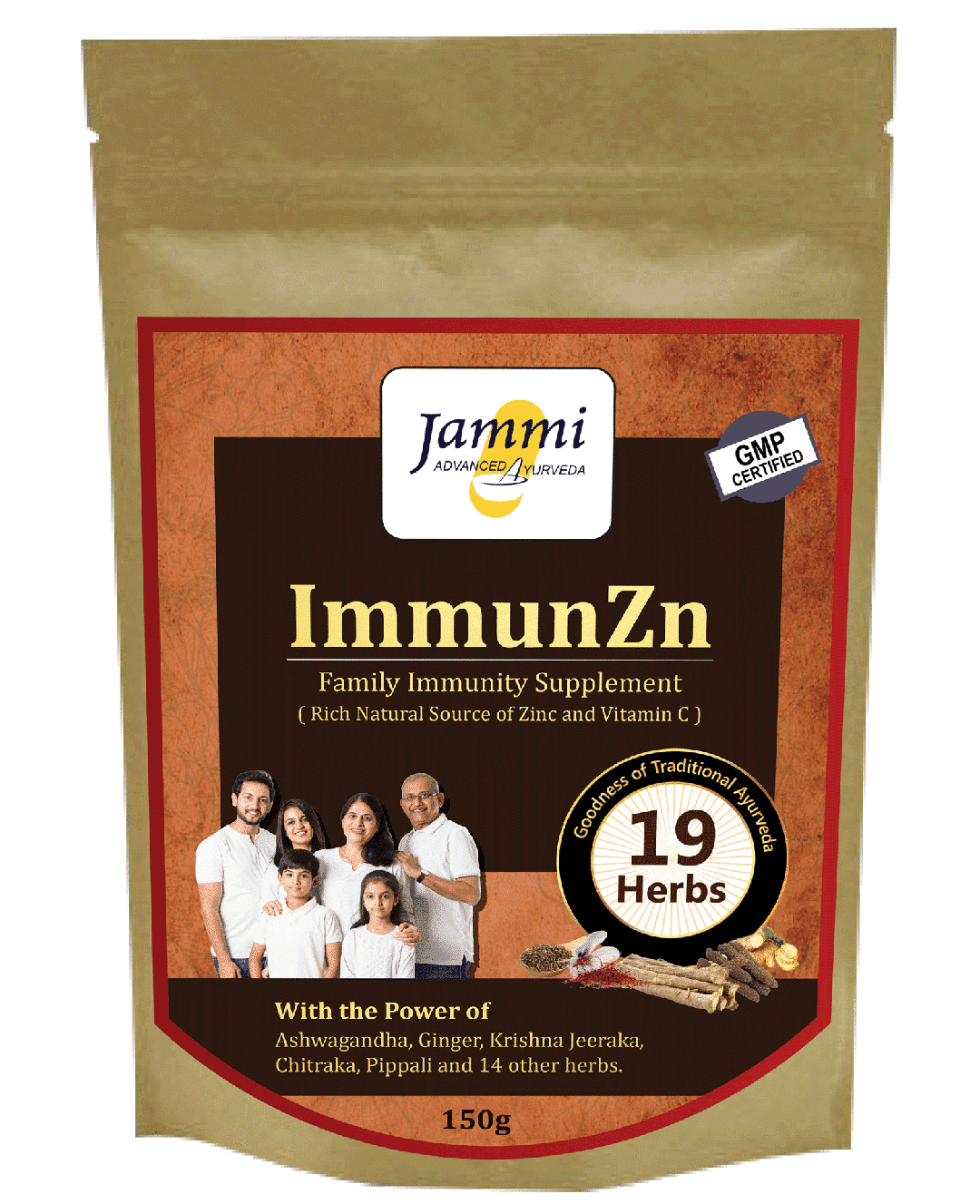 ImmunZn – Immunity Booster for entire family(Kids-friendly) Granules, 150g
ImmunZn is an all-Natural Ayurvedic Immunity booster from Jammi Pharmaceuticals. The ingredients are a judicious mix of Ashwagandha, Krishna Jeeraka, Chitraka, Saffron, Shunthi, Maricha (Black Pepper) and several other immunity booster herbs (totally 19) to boost one's immunity and protect oneself from the harmful effects of viruses, bacteria, and other harmful microorganisms. The critical and …
CONCLUSION
Making healthy lifestyle choices by consuming nutritious foods, getting adequate sleep, engaging in regular physical activity, exercise and not smoking are the most important ways to bolster your immune system. Ayurveda has enough potential and possibilities to be employed both for the prevention and an adjunct treatment option for COVID-19.
Narasimham Jammi
Published : February 5, 2021